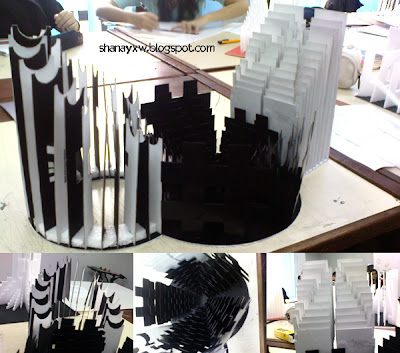 2nd last assignment for 2 and 3D class. (Forgot how many assignments we did so I'll just say second last.) Was suppose to explore the use of repetition to create movement.
I knew I could do something more better once I finished it, like something simple yet complicated, but I'd used too much effort on this one that I couldn't bear to NOT pass it up.
Final assignment. To make a wall divider according to everything we learned. That's why the loves and crosses exists - to create some texture. Black color on one side and white on the other.

I aimed to make something modern looking (at least it was when it was a drawing on a piece of paper), but it turned out to be quite girly. They said it looked like a barbie doll's mansion. *sweats* Was I intending to making a barbie doll themed wall divider?

Got an
A
for this subject.
*Jumps up and down*
Knew this due to our efficient lecturer who calculated the marks straight after we showed her our assignments. At least that's one subject less to worry about.
One more 'Final Assignment' post to go! Then I'm totally free to post about everything else! Even though I still have no idea what to post about yet. My life's boring. BAH.
Did I mentioned that I've been stuck at home for
4 days straight
?
As for why I'm posting these assignments post... Awhh, I know there aren't many people interested in reading them, but I'm blogging them so 10 years later when I look back, I'd have something to brag about :P
.And
for my next year juniors to actually have some idea of what their assignments look like when they google it.
Rusted Butt,

Shanay